5. Patrick Roy
As I mentioned in my previous article, Montreal would be better off with Roy behind the bench rather than sitting in the press box. However, if Roy doesn't get the gig as head coach it would be wise to add him into the management group. Roy is the GM of the Quebec Remparts at the moment so there should not be any worry that he has no experience at the job.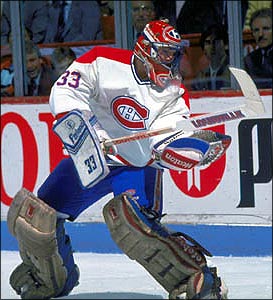 4. Julien Brisebois
Brisebois is now the assistant GM in Tampa Bay and Steve Yzerman has repeated it many times that he does not want to let him go. However, Brisebois, who used to be the GM of the Hamliton Bulldogs, has ties to Montreal ownership and could return as soon as next season as the GM of the team.
3. Serge Savard
Savard has already been the general manager of the Canadiens, and he was a good one at that. He is also an ex-player, he speaks French and is from Montreal. He is a great hockey mind and could seriously help to rebuild this franchise.
2. Scotty Bowman
This one right here is my personal favorite, however, it is a long-shot. Bowman was arguably the greatest coach in the history of the Montreal Canadiens franchise. I have never heard of his name come up in next GM dicussions, however, he could be exactly what the Habs are looking for. He is a great hockey mind and recently won a Stanley cup with his son, Stan Bowman, in Chicago. Scotty is also a Montreal native who speaks French.
1. Pierre McGuire
This one is pretty obvious. McGuire is a superb hockey mind who knows everything about any player to ever declare for an NHL draft. His knowledge for the game is nothing short of incredible. McGuire has worked in the NHL before for the Pittsburgh Penguins so he has the experience. Pierre is also a good friend of Habs owner Geoff Molson. He is French-speaking and has spent the better part of the last 10 years living in Montreal since recently moving to the U.S.
CHeers
Follow me on Twitter: @YourCanadiens