Ladies and gentleman, the trade deadline is only a short time away. Here is a list of 5 players that the Habs must trade before the deadline, and who they should be traded for.
1. Hal Gill
Gill has once again been a great player for the Habs this season. When he is dealt, his leadership will be dearly missed. However, because of his age and his pending UFA status Gill must be moved. With many pending free agent defenseman signing with their teams (Gleason, Boychuk, Sutton) Gill could prove to be one of the hottest commodities at his position as he has playoff experience and has won a Stanley cup.
My offer: Hal Gill to Philadelphia Flyers for a 2nd round pick.
2. Travis Moen
Just like Gill, Moen's presence in the locker room will be missed, however his UFA status makes him hard to keep. Moen is a great penalty killer and defensive players and could be the difference to a team like the San Jose Sharks or Detroit Red Wings. Moen is that bottom 6 forward with playoff experience that these teams desperately need.
My offer: Travis Moen, Andrei Kostitsyn and Yannick Weber to the San Jose Sharks for Ryan Clowe and a 3rd round pick.
3. Tomas Kaberle/ Chris Campoli
Campoli is a pylon. Same goes for Kaberle. One that is making $4.25M.
My offer: Tomas Kaberle/ Chris Campoli to any team for anything they want including pucks and Gatorade.
4. Andrei Kostitsyn
Kostitsyn has never evolved into the force that the Habs expected he would be when they drafted him 10th overall in 2003. He is a pending UFA and a could prove useful to a team in need of offensive depth.
My offer: Andrei Kostitsyn to the Nashville Predators for a 2nd round pick, Gabriel Bourque and Jordin Tootoo OR part of the Moen deal that would send him to San Jose.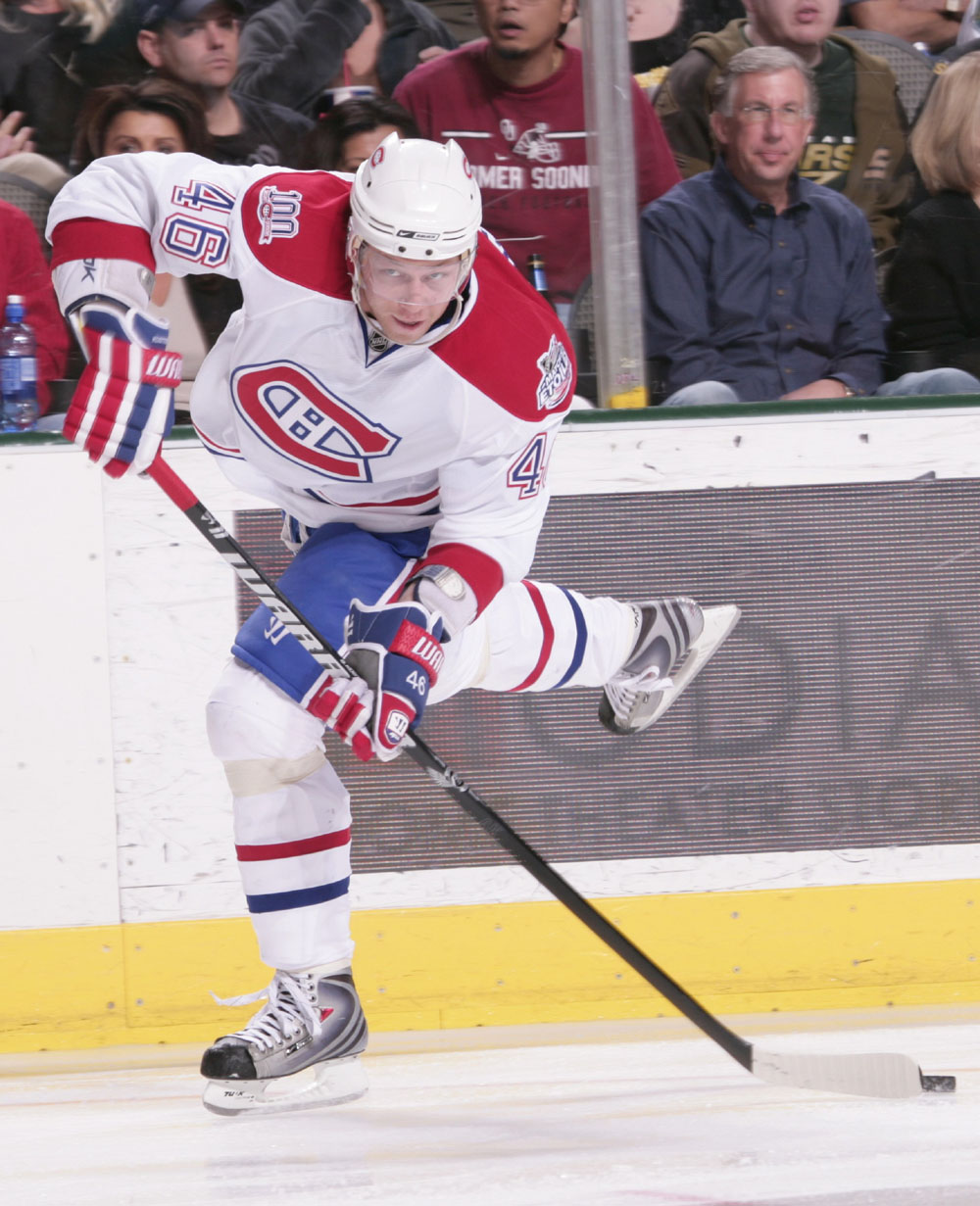 5. Yannick Weber
Weber is a different story then the rest of these players. He is not a UFA and is definitely not a pylon. Over the past couple of years, Weber has never found away to solidify his spot in the lineup. He is viewed by the rest of the league as a player with a ton of potential. Because of his limited playing time, instead of keeping Weber in the press box, he should be traded. And he shouldn't be overlooked, he along with some other assets, could bring back a significant return to Montreal.
My offer: Yannick Weber and a 4th round pick to the Tampa Bay Lightning for Steve Downie and a 6th round pick OR sent to San Jose in the Moen/ Kostitsyn deal.
Honorable mentions to be dealt: Scott Gomez, Mathieu Darche, Peter Budaj.
Quick note: For all of those who believe PK Subban should be dealt, I believe you are all nuts. Even if Nash or Getzlaf were coming back in return, I would still have to think about dealing him. Trading Subban would be the dumbest move since trading Patrick Roy. He has such a bright career ahead of him, and it would really be a shame for it not to be in Montreal.
Leave a comment, let me know what you guys think!
CHeers
Follow me on Twitter: @YourCanadiens